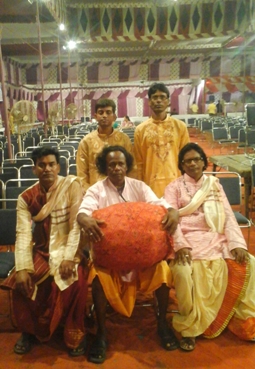 JAMINI RAMKINKAR
KABIGAAN TROUPE
in New Delhi.
Kabigaan, a disputatious folk song of Bengal, has come back again in our society with it's full force. It is a fascinating folk song of Bengal. Kabigaan is very humorous and instructive as well. This traditional folk song is sung by two folk poets dividing into two groups. Each group is led by a "Kabiyaal" and the accompanying singers called "Dohar" who often repeat what the leader said. Kabigaan is a debating contest between two Kabiyaals who make lyrics and compose their rhythm instantly on the stage. This folk song really fosters peace, amity, social harmony and development giving health, environment, science awareness over the audiences. The flourishing period of Kabigaan was between 1760 to 1830. In that time some legend Kabiyaals like Bhola Moyra, Antony Phiringhee, Haru Thakur, Nitai Boiragy, Bhavani Bene glorified Kabigaan. However, Kabigaan is now become very popular again in West Bengal, Jharkhand, New Delhi and another Bengali inhabited states of India.
By the way, some decades before this regional folk song was in debris due to origination of western music such as pop, rock, disco etc. and as well as worst performances of some kabigaan singers.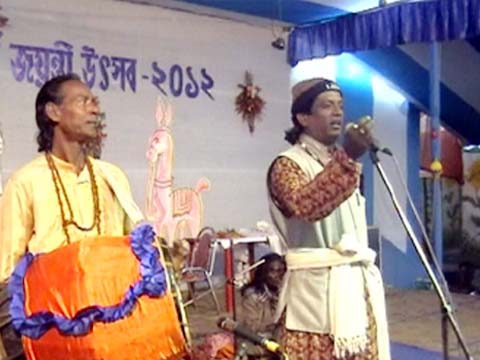 Kabigaan at Bankadaha H S School on the Golden Jubilee Celebration..
But, at the time of begining, many kabiyaals like Gojla Guin, Bhola Moyra, Antony Phiringhee, Horu Thakur, Bhawani Bene, Nitai Boiragy, Bijoy Sarkar, Sekh Gumani Dewan and so on more Kabiwalas clarified kabigaan. After them, kabigaan gradually lost it's popularity and went to mass of destruction.
Now kabigaan is getting back it's losing power and becoming more popular in our society.